Andy Cumming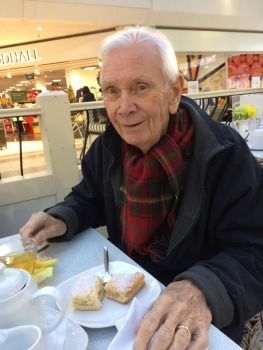 We are sad to announce that Andy Cumming, father to Linda Watson and Jacqui McKinnon went to be with the Lord on February 8th 2021. He was a regular at Time out and on our Spring Break holidays and known to many of the Flame family.
Dave has been in regular touch with Andy over recent months. They shared a common interests in ships and paddle steamers(!), but more especially it was a love for the Lord, Flame's ministry and rich fellowship that created a lovely bond and relationship.
Dave commented: 'Andy was a lovely man…highly mischievous and full of fun. He was also a great story teller and kept me spellbound with stories from the sea and from his own experience as a marine architect. But he loved the things of God and in recent times, as we prayed together – sometimes on the phone – his concern for others and his anticipation of heaven was very evident. On a recent card that he sent to me, that featured his painting of the original Queen Mary (see the work in progress and on completion, left), he simply wrote:
'David….what a friend we have in Jesus. Good or bad, we can take it to the Lord'.
Friends of Andy and the Flame family can engage with the Thanksgiving Service for Andy, to be shown live on YouTube at 3pm on Saturday 27 February.

Click on the video link - right - at 3pm which will take you directly to the Service.


If you are unable to watch it 'live' then you will be able to watch it anytime from approx. 4.15pm onwards.