Madeira - March 2024
Dear Friends
Spring Breaks – for the purpose of spiritual refreshment and relaxation - have always featured as part of Flame's programme for partners and supporters, and after the success of our visit to Malta in 2023, we are delighted to be returning to Madeira from 4 - 11 March 2024, the most popular venue from research during our Malta break.
Download the full details here
Download a colour brochure here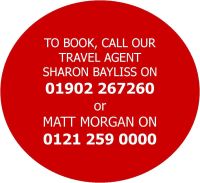 However, we do recognise that with the current rate of inflation and rising costs across ALL sectors, the price for ALL holidays in Europe for next year has risen. Yet at the same time, Sharon and Matt - the team at Travel Counsellors and our trusted and respected booking partners - together with 'Team Flame', are committed to securing the best deal for our friends and supporters, and the following detail is a realistic, and the most economic solution, for these challenging times.
Our hotel is the 5 star VidaMar Resort in Funchal. The prices include Garden View rooms (sea view rooms available at a supplement - see the download files above), transfers, generous baggage allowance, half board in a 5 star resort, evening sessions with a guest speaker, and other input and support as and when required.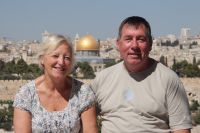 And we have just confirmed that IAN and RUTH COFFEY (right), special guest speakers in Malta, will lead our devotions, with input from local Christian leaders as and when available.
As is always the case, the airlines operate on a 'first come – best served' basis, which means that the earlier we book, the cheaper the rates will be. Airlines increase their price as the aircraft fills, and Madeira is becoming an increasingly popular destination.
If you choose to join us, please contact Sharon or Matt direct at Travel Counsellors (the Flame office is not handling the bookings), and they will give you the guaranteed price on the day you book. The deposit is £60 per person, balance payable by 12 November.
BOOKING OPENS ON TUESDAY 13TH JUNE 2023. Lines could be busy! Contact details for Sharon and Matt are given above.
I really hope you will be able to be with us in Madeira. These are tough times, but having visited a 'modest restaurant' recently where prices had risen considerably, the price reflected overleaf does seem to be realistic for a 5 star holiday, for one week on a half board basis in a beautiful environment.
Hope you decide to come!
Dave Pope, CEO Flame Trust